Best Open Source Firewall
There are many Open Source firewalls to choose from. But which one is the best?
Best
The short answer is: pfSense is the best
It's what I use and recommend when anyone asks.
pfSense is based on FreeBSD and you can install free third-party software packages for additional functionality.
It can be installed on your own hardware (see their hardware selection guide) or you have the option to purchase a Security Gateway Appliance.
It available in Azure and AWS Marketplaces, as well as their GovClouds(US) – isolated regions.
I've been using the Netgate SG-1100 at home for a while and it's been great.
Runner Ups
OPNSense – A fork of pfSense, but has been rewritten only keeping about 10% of original code. It has a new Graphic User Interface, that some may prefer.
Untangle – The NG Firewall from Untangle is another good choice. Their free edition gives you all the standard features you'd expect. Although, you probably will want to pay for their "Complete" package to get all the advanced features.
IPFire – Good choice here too. IPFire orignally started as a fork of IPCop and but has been rewritten on basis of "Linux From Scratch" since version 2.
Review Comparisons
I compared top ranking firewall reviews and created the below spreadsheet.
As you can see, pfSense ranked #1 by most reviewers.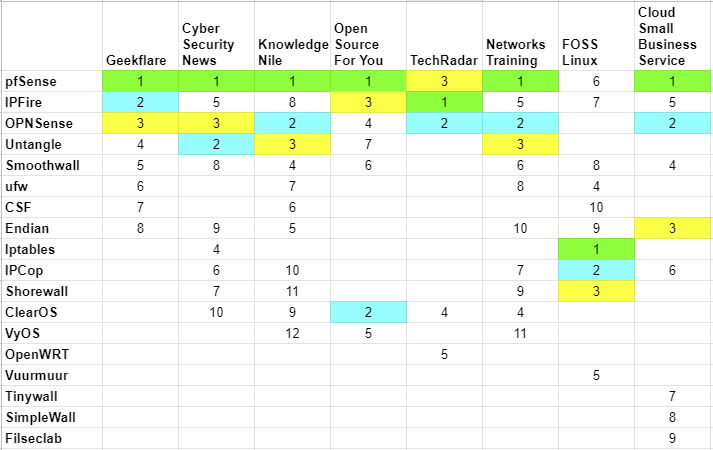 Sources
Conclusion
Consider using one of these top firewalls. They will give you feature sets that are usually only found in enterprise firewalls. And best yet, they all are free to use.